ACTA publishes the journal TESOL in Context
… and also some special issues and background papers
TESOL in CONTEXT
TESOL in Context is the peer-reviewed publication of the Australian Council for TESOL Associations (ACTA) for teachers, researchers and others interested in TESOL within Australia and internationally. Normally two issues are produced each year.
The journal has moved online and following Vol 26, No. 1, hard copies are longer being produced. The move to open access is part of an initiative to make the journal more easily accessible by readers and members. The journal will continue to be peer reviewed and attract high quality articles from experts in the TESOL field.
The TESOL in Context Journal site is at http://tesolincontext.org.au/
Recent issue: Volume 30, No 1 (November 2021)
Languages in Early Childhood Education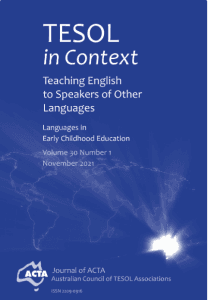 "In the context of ever-changing global movement of peoples in and between countries, linguistic diversity, and diversity in modes of communication and expression have become increasingly vibrant and visible (D'warte & Slaughter, 2021). These changes have also been reflected in research scholarship into languages acquisition where monolingual-centric assumptions have been disrupted by heteroglossic perspectives that view the linguistic repertoire of any individual, including the very young child, as complex – shaped by the "linguistic, cognitive, social and emotional" characteristics of the individual (Seltzer & García, 2020, p. 2). In orienting this to the classroom, Cummins & Early (2011) argue that the relationship between language and identity cannot be untwined but that indeed, a critical precondition for learning involves recognising and engaging with the cultural and linguistic knowledges and learning experiences of students."
[Reference: Slaughter, Y., Keary, A., Gillian, P., & Bonar, G. (2021). Editorial: Languages in Early Childhood Education. TESOL in Context, 30(1), 1–8. https://doi.org/10.21153/tesol2021vol30no1art1571]
This issue contains four articles:
Leveraging Languages for Learning: Incorporating Plurilingual Pedagogies in Early Childhood Education and Care / Caroline Cohrssen, Yvette Slaughter, Edith Nicolas

Mothers as First Teachers: Exploring the Features of Motherchild Interactions That Support Young Aboriginal Children's Multilingual Learning at Playgroup / Janet Scull, Jane Page, Wan Yi Lee, Lisa Murray, Dorothy Gapany, Samantha Stewart, Marilyn Murukun, Nuala Scannell, Rona Lawrence, Jonica Dhurrkay, Felicity Hayes, Verity Burarrwanga, Leah Chynoweth, Michelle Callahan, Jessica Noella Goveas, Megan L. Cock, Susan Mentha, Patricia Eadie, Joseph Sparling

Knowing Who You Are: Heritage Language, Identity and Safe Space in a Bilingual Kindergarten / Kerry Taylor-Leech, Eseta Tualaulelei

The Niichii Project: Revitalizing Indigenous Language in Northern Canada / Shelley Stagg Peterson, Yvette Manitowabi, Jacinta Manitowabi
Three books are reviewed in this issue:
Bilingual Families: A Practical Language Planning Guide
Rooted in Strength: Using Translanguaging to Grow Multilingual Readers and Writers
Early Language Learning and Teacher Education. International Research and Practice
Click to view the TESOL in Context. Vol 30 No 1.
Click to view Launch of TESOL in Context Special Issue: Languages in Early Childhood Education.
GUEST EDITORIAL TEAM: Dr Yvette Slaughter, Dr Anne Keary, Dr Gary Bonar and Dr Gillian Pennington
---
Past issues of TESOL in Context
Explore the wealth of ideas by browsing through back issues, going right back to the very first TESOL in Context issue that was published in 1990.
---
Journal Editorial Teams
TEAM 1: Dr Sue Ollerhead, Dr Julie Choi and Dr Sasikala (Shashi) Nallaya
TEAM 2: Dr Averil Grieve, Dr Sharon Yahalom and David Wei Dai
---
Contributing to TESOL in Context
Upcoming issues:
L2 interactional competence in the online space
Maximising the pedagogical affordances of digital learning spaces to enhance language development 
If you would like to submit an article to be considered for publication in TESOL in Context, go to the "For writers" page for further information.
Copyright for all articles published in TESOL in Context is vested in the journal. Permission to publish articles elsewhere should be sought from .
Please note: views expressed in contributions to TESOL in Context do not necessarily reflect those of ACTA.