ACTA publishes the journal TESOL in Context
… and also some special issues and background papers
TESOL in CONTEXT
TESOL in Context is the peer-reviewed publication of the Australian Council for TESOL Associations (ACTA) for teachers, researchers and others interested in TESOL within Australia and internationally. Normally two issues are produced each year.
The journal has moved online and following Vol 26, No. 1, hard copies are longer being produced. The move to open access is part of an initiative to make the journal more easily accessible by readers and members. The journal will continue to be peer reviewed and attract high quality articles from experts in the TESOL field.
The TESOL in Context Journal site is at http://tesolincontext.org.au/
Recent issue: Volume 27, No 2 (December 2018)
Ethics in TESOL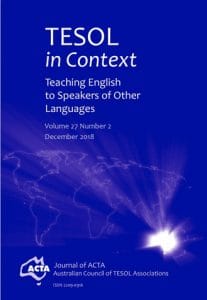 "This special issue of TESOL in Context focuses on the topic of "Ethics in TESOL". In it a number of issues are explored including accountability of ESOL teachers to their students and communities, the development of ethical responsibility for professional life and how research can inform and transform practice. Broader questions are raised about where does the notion of ethics take us as a profession in relation to research, practice and advocacy?"
[Reference: Macdonald, S. & Keary, A. Editorial: Ethics in TESOL [online]. TESOL in Context, Vol. 27, No. 2, Dec 2018: 1-4.]
This issue contains three articles:
The Ethics of TESOL a quarter century on / Alan Williams
The question of professional ethics in TESOL: Hospitality as an (im)possible demand? / Alex Kostogriz
Praxis and language: Teaching newly arrived migrant children to "live well in a world worth living in" / Mervi Kaukko, Jane Wilkinson
Three books are reviewed in this issue:
Teaching English to Second Language Learners in Academic Contexts: Reading, Writing, Listening, and Speaking
Refugee Background Students Transitioning Into Higher Education: Navigating Complex Spaces
Research on Reflective Practice in TESOL
Click here to view the TESOL in Context. Vol 27 No 2.
---
Journal Editorial Teams
TEAM 1: Rod Neilsen, Ruth Arber and Michiko Weinmann
TEAM 2: Shem Macdonald
---
Contributing to TESOL in Context
Upcoming issues:
Volume 28 Number 1 (2019)
If you would like to submit an article to be considered for publication in TESOL in Context, go to the "For writers" page for further information.
Copyright for all articles published in TESOL in Context is vested in the journal. Permission to publish articles elsewhere should be sought from tic@tesol.org.au.
Please note: views expressed in contributions to TESOL in Context do not necessarily reflect those of ACTA.
---
Past issues of TESOL in Context
Explore the wealth of ideas by browsing through back issues, going right back to the very first TESOL in Context issue that was published in 1990.