ACTA publishes the journal TESOL in Context
… and also some special issues and background papers
TESOL in CONTEXT
TESOL in Context is the peer-reviewed publication of the Australian Council for TESOL Associations (ACTA) for teachers, researchers and others interested in TESOL within Australia and internationally. Normally two issues are produced each year.
The journal has moved online and following Vol 26, No. 1, hard copies are longer being produced. The move to open access is part of an initiative to make the journal more easily accessible by readers and members. The journal will continue to be peer reviewed and attract high quality articles from experts in the TESOL field.
The TESOL in Context Journal site is at http://tesolincontext.org.au/
Recent issue: Volume 29, No 2 (December 2020)
Teaching and learning English in the age of COVID-19: Reflecting on the state of TESOL in a changed world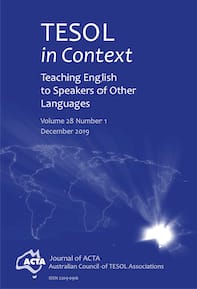 "These are challenging times for education, and for our profession.  Employment in the TESOL field, for a long time precarious because of casualisation, has been affected by a high number of job redundancies as a result of the significant decline in international student numbers, especially in vocational and higher education sectors.  The entry of international EAL/D students into primary and secondary schools has also sharply fallen as Australia's borders have been closed to all but returning Australian residents and citizens."
[Reference: Neilsen, R. ., Weinmann, M., & Arber, R. (2020). Editorial: Teaching and learning English in the age of COVID-19: Reflecting on the state of TESOL in a changed world. TESOL in Context, 29(2), 1–13. https://doi.org/10.21153/tesol2020vol29no2art1427]
This issue contains three articles:
Symbolic capital and the problem of navigating English language teacher practice: the case of Indonesian pesantren / Andrew Skourdoumbis and Ahmad Madkur
The affordances and limitations of collaborative research in the TESOL classroom / Yvette Slaughter, Julie Choi, David Nunan, Hayley Black, Rebecca Grimaud and Han Trinh
Considering the benefits of research participation: insights from a study of adult EAL educators / Ekaterina Tour, Edwin Creely and Peter Waterhouse
Three books are reviewed in this issue:
Emotions in Second Language Teaching: Theory, Research and Teacher Education
Reflections on Task-Based Language Teaching
Mind Matters in SLA
Click to view the TESOL in Context. Vol 29 No 2.
---
Past issues of TESOL in Context
Explore the wealth of ideas by browsing through back issues, going right back to the very first TESOL in Context issue that was published in 1990.
---
Journal Editorial Teams
TEAM 1: Dr Sue Ollerhead, Dr Julie Choi and Dr Sasikala (Shashi) Nallaya
TEAM 2: Dr Averil Grieve, Dr Sharon Yahalom and David Wei Dai
GUEST TEAM: Dr Yvette Slaughter, Dr Anne Keary, Dr Gary Bonar and Dr Gillian Pennington
---
Contributing to TESOL in Context
Upcoming issues:
Early childhood education and EAL/D
L2 interactional competence in the online space
Maximising the pedagogical affordances of digital learning spaces to enhance language development 
If you would like to submit an article to be considered for publication in TESOL in Context, go to the "For writers" page for further information.
Copyright for all articles published in TESOL in Context is vested in the journal. Permission to publish articles elsewhere should be sought from .
Please note: views expressed in contributions to TESOL in Context do not necessarily reflect those of ACTA.