ACTA publishes the journal TESOL in Context
… and also some special issues and background papers
TESOL in CONTEXT
TESOL in Context is the peer-reviewed publication of the Australian Council for TESOL Associations (ACTA) for teachers, researchers and others interested in TESOL within Australia and internationally. Normally two issues are produced each year.
The journal has moved online and following Vol 26, No. 1, hard copies are longer being produced. The move to open access is part of an initiative to make the journal more easily accessible by readers and members. The journal will continue to be peer reviewed and attract high quality articles from experts in the TESOL field.
The TESOL in Context Journal site is at http://tesolincontext.org.au/
If you would like to receive updates from TESOL in Context journal, please join our mailing list:
Recent issue: Volume 30, No 2 (2022)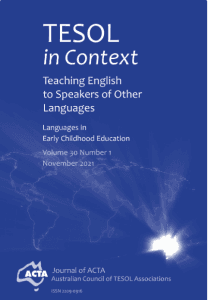 Interactional competence (IC) is a concept gaining growing currency in language learning, teaching and assessment. First proposed by Kramsch (1986), IC focuses on developing second language (L2) speakers' abilities to use language for functional purposes, ranging from "survival as a tourist or a student to negotiating treaties" (p. 366). The conceptualization of language competence as an ability for use differentiates IC from traditional understanding of proficiency, which consists of componential, de-contextualized ability indicators such as lexical range, grammatical soundness, and pronunciation. The ethos of IC emphasizes that language teaching education needs to focus on cultivating L2 speakers' abilities to use their linguistic resources (e.g., vocabulary and grammar) to achieve meaningful social actions in real-world interactional contexts. This special issue comprises three research articles and three book reviews, each of which exemplifies the ways in which IC can be applied to face-to-face and online learning opportunities for L2 speakers. 
The editors of this special issue, Dr David Wei Dai, Dr Averil Grieve and Dr Sharon Yahalom would like to express a big thank-you to the reviewers, editorial board members and journal coordinator for contributing their time and expertise in the preparation of this issue.
In this issue:
Editorial: L2 interactional competence in the online space: Affordances, challenges, and opportunities for TESOL practitioners David Wei Dai; Averil Grieve, Sharon Yahalom

Requesting on WhatsApp: The interplay of interactional competence and deontics in English as an additional language
Taiane Malabarba

Interactional practices to manage epistemic stances in online searches during a computer-mediated conversation-for-learning Ann Tai Choe, Hanh thi Nguyen, Cristiane Vicentini

Features of Online Second Language Interactional Competence in a German-Israeli Virtual Exchange
Nils Drixler
Three books are reviewed in this issue:
Roever, C. (2022). Teaching and testing second language pragmatics and interaction: A practical guide. Routledge.
Ann Tai Choe
Wong, J., & Waring, H.Z. (2021). Conversation analysis and second language pedagogy: A guide for ESL/EFL teachers. Routledge.
Michael Davey
Salaberry, M. R., & Burch, A. R. (Eds.) (2021). Assessing speaking in context: Expanding the construct and its applications
Leila Zohali
Click to view the issue: TESOL in Context. Vol 30 No 2.
GUEST EDITORIAL TEAM: Dr David Wei Dai, Dr Averil Grieve & Dr Sharon Yahalom
---
Past issues of TESOL in Context
Explore the wealth of ideas by browsing through back issues, going right back to the very first TESOL in Context issue that was published in 1990.
---
Journal Editorial Teams
TEAM 1: Dr Sue Ollerhead, Dr Julie Choi and Dr Sasikala (Shashi) Nallaya
TEAM 2: Dr Averil Grieve, Dr Sharon Yahalom and David Wei Dai
---
Contributing to TESOL in Context
Click to view the Call for Papers for our upcoming issues:
If you would like to submit an article to be considered for publication in TESOL in Context, go to the "For writers" page for further information.
Copyright for all articles published in TESOL in Context is vested in the journal. Permission to publish articles elsewhere should be sought from .
Please note: views expressed in contributions to TESOL in Context do not necessarily reflect those of ACTA.