ACTA publishes the journal TESOL in Context
… and also some special issues and background papers
TESOL in CONTEXT
TESOL in Context is the peer-reviewed publication of the Australian Council for TESOL Associations (ACTA) for teachers, researchers and others interested in TESOL within Australia and internationally. Normally two issues are produced each year.
The journal has moved online and following Vol 26, No. 1, hard copies are longer being produced. The move to open access is part of an initiative to make the journal more easily accessible by readers and members. The journal will continue to be peer reviewed and attract high quality articles from experts in the TESOL field.
The TESOL in Context Journal site is at http://tesolincontext.org.au/
Recent issue: Volume 28, No 1 (December 2019)
Adopting a multilingual stance: Benefits and challenges for learners and teachers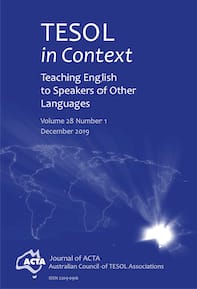 "Each of these papers makes a valuable contribution to our understandings of multilingual pedagogies and how the learning needs of plurilingual students in school [and adult] contexts might be better met through the adoption and development of a multilingual stance. Each article offers insights that have implications for practice by teachers in schools both those with a long history of teaching EAL learners (such as those in metropolitan areas) as well as schools where EAL learners have been welcomed more recently (such as is in many regional areas of Australia)."
[Reference: Macdonald, S. (2019).  Editorial: Adopting a multilingual stance: Benefits and challenges for learners and teachers [online]. TESOL in Context, Vol. 28, No. 1, Dec 2019: 1-4.]
This issue contains three articles:
Expanding EAL expertise: Taking a multilingual stance / Ester J. de Jong
Multilingual pedagogies in practice / Mei French
Supporting EAL students in regional education contexts: "It creates a huge workload and often times disappointment" / Melissa Barnes, Seham Shwayli and Pamalee Matthews
Three books are reviewed in this issue:
Supporting Learners with Dyslexia in the ELT Classroom
Language Assessment for Classroom Teachers
Advocacy in English Language Teaching and Learning 
Click to view the TESOL in Context. Vol 28 No 1.
---
Past issues of TESOL in Context
Explore the wealth of ideas by browsing through back issues, going right back to the very first TESOL in Context issue that was published in 1990.
---
Journal Editorial Teams
TEAM 1: Dr Sue Ollerhead, Dr Julie Choi and Dr Sasikala (Shashi) Nallaya
TEAM 2: Dr Averil Grieve, Dr Sharon Yahalom and David Wei Dai
TEAM 3: Dr Rod Neilsen, Dr Ruth Arber and Dr Michiko Weinmann
TEAM 4: Dr Shem Macdonald
GUEST TEAM: Dr Yvette Slaughter, Dr Anne Keary, Dr Gary Bonar and Dr Gillian Pennington
---
Contributing to TESOL in Context
Upcoming issues:
Volume 29 Number 1 (2020)
Growing the Teaching and Learning Platform with Aboriginal and Torres Strait Islander Peoples
If you would like to submit an article to be considered for publication in TESOL in Context, go to the "For writers" page for further information.
Copyright for all articles published in TESOL in Context is vested in the journal. Permission to publish articles elsewhere should be sought from .
Please note: views expressed in contributions to TESOL in Context do not necessarily reflect those of ACTA.